Access Doors and Panels on 6th Nov 2023
Access Doors and Panels is thrilled to announce our recent partnership with Best Access Doors, America's largest supplier of access solutions. As a trusted source for top-name access products from respected manufacturers in North America's commercial construction industry, we are proud to join forces with this outstanding brand. To mark this exciting collaboration, we will soon introduce their complete line of best-selling products on our platform, which you can explore during our upcoming Black Friday Cyber Monday sale!
Before we delve into the details, let's take a closer look at why Best Access Doors is an ideal addition to our 15-vendor strong lineup.
Why Best Access Doors is the Perfect Partner
Best Access Doors is renowned for providing innovative access solutions tailored to commercial and industrial applications. With a rich history spanning nearly two decades, the company's steadfast commitment to delivering exceptional products and customer experiences has propelled it to the forefront of the access products industry in the USA. Best Access Doors boasts an extensive product portfolio, including access doors, roof hatches, floor panels, vents, and more, catering to a wide range of applications in the commercial construction landscape. Access Doors and Panels is thrilled to announce our partnership with Best Access Doors, ensuring that we can now offer their bestsellers to meet the dynamic needs of the commercial construction sector.
Did You Know?
Best Access Doors, a trailblazer in the access products industry, recently achieved the remarkable milestone of becoming America's largest supplier of access solutions. Their unwavering commitment to excellence and innovation has seen their product portfolio grow to encompass over 10,000 SKUs and almost 3,000 different models, with the introduction of more than 200 new access doors, roof hatches, smoke vents, and floor panels in the current year alone.
Best Access Doors' product range has made its mark in various commercial buildings, from upscale hotels and international airports to warehouses, museums, and stadiums.
These products, designed for quick installation and secure concealed access, exemplify superior engineering and innovative design. Furthermore, many of these products are fire-rated and LEED V4 compliant, aligning seamlessly with sustainable project goals.
Join Us in Welcoming Best Access Doors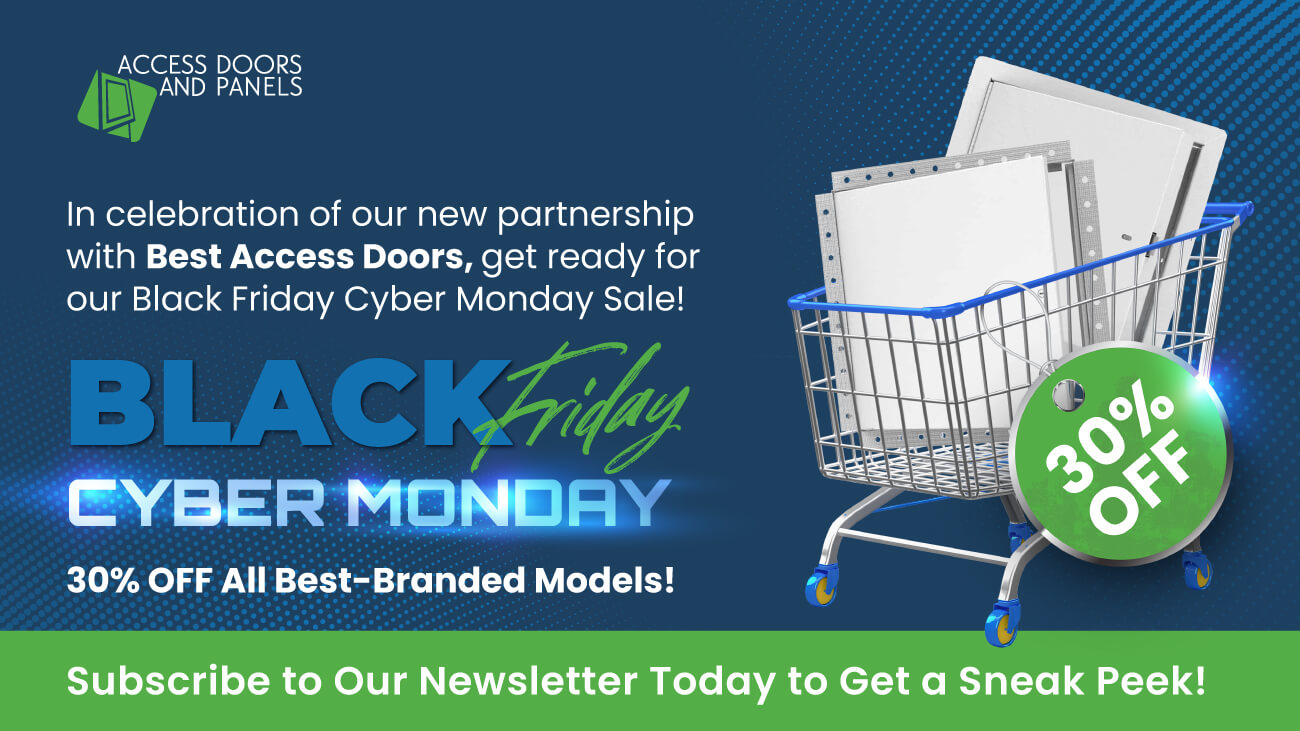 We invite you to welcome Best Access Doors as our newest partner at Access Doors and Panels and explore some of their incredible access solutions. Even more exciting, you can enjoy a 30% discount on all Best-branded products during our Black Friday Cyber Monday sale from November 20th to 27th!
If you're interested in learning more about Best Access Doors' products or have any questions for our team of access door experts, please don't hesitate to call us at 1-888-445-1819 to get started. Let us know if you'd like to customize any of our models, and we'll get to work!
Thanks to our partnership with Best Access Doors, we look forward to serving you with the best access solutions in the industry.